Hot Spots ® & Hot Spots Magazine ® are registered trademarks of Hot Spots Inc. All Rights Reserved.
---
A complete magazine and guide to the exciting world of: Entertainment / Activities / Culture &Travel
---
Hot Spots Magazine Editorial Office: 425 South Fairfax Avenue / Los Angeles / California / 90036 (323) 954-2250 / fax: (323) 954-2249 / e-mail: hotspots@hotspotsmag.com
---
" The most extensive Entertainment Magazine in history! "
---
Hot Spots Magazine ® is Currently Available In: California / Florida / Georgia / Hawaii / Illinois / Louisiana / Missouri Nevada / New York / Texas / Vancouver, B.C. / Washington
---
Everyone wants to make the most of the beautiful outdoors, exciting nightlife and the many cultural activities that happen all around us. How often has the desire to find something thrilling to do, overshadowed the possibilities that you were able to quickly think of or find in your local paper or guide. Hot Spots ® delivers suggestions and tips for every interest, in a complete and easy to follow format.
---
Hot Spots ® is divided into four sections: Entertainment, Activities, Culture & Travel . These sections each focus on more specific entertainment categories that contain feature stories and include thousands of entertainment listings. Whether it's celebrity interviews, movies, video's, video games, comedy, clubs, radio, concerts, tours, attractions, outdoor activities, sports, music, theatre, museums, galleries, shopping, dining or travel, you'll find it and more in Hot Spots Magazine ®!
---
Hot Spots Magazine ® is the most comprehensive Entertainment & "Things To Do" publication on the market today! This high quality, color, glossy magazine gives readers a tour through the exciting world of entertainment.
---
LISTINGS -Thousands of entertainment listings are available in Hot Spots Magazine ® that enable our readers to learn more and know about the "Hottest" cities in America and the "hippest" entertainment establishments including the address, phone number, price range, category and information on each "Hot Spot ®."






---
Hot Spots Magazine ® has an easy to follow table of contents with clearly marked pages that let the reader quickly find what he or she is looking for.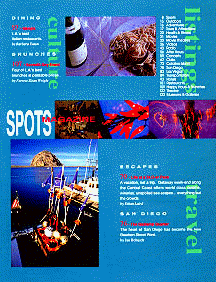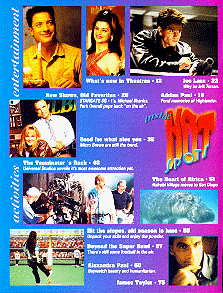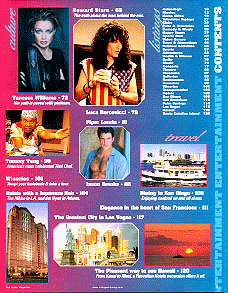 ---
ENTERTAINMENT - Read about your favorite celebrities, the "hottest" new upcoming stars, movies, video's, comedy, happy hours, clubs, nightlife, pubs and breweries and much more in Hot Spots ' ® Entertainment Section.










---
ACTIVITIES - For all of your favorite theme parks, outdoor activities, parks, beaches, sports, video games, tours, attractions, health and fitness information, you need look no further than Hot Spots ' ® Activity Section.




---
CULTURE - The Culture Section includes interesting previews of museums, galleries, theatre, the current music hits and the hottest concerts nationwide. Also the latest on the fashion scene and features on restaurants and your favorite foods from around the world.





---
TRAVEL - Hot Spots Magazine ® guides you through winery tours, gives you a glance at some of the hippest hotels, casinos, features on great weekend escapes, and the coolest travel destinations around. The Travel Section even lists how to get there.









---
---
---