Include Your Business in the Hot Spots ®ClubCard Program
---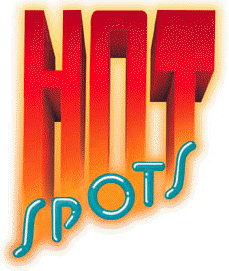 Hot Spots ® & Hot Spots Magazine ® are registered trademarks of Hot Spots Inc. All Rights Reserved.
---
To become a participating member of the Hot Spots ®ClubCard program, Simply complete and submit the form below. (To include your establishment in the Hot Spots ® Listing section complete and submit the Listing Form.)
---
Hot Spots Magazine® is the most comprehensive entertainment & "Things to Do" publication on the market today! This high quality, color, glossy, national magazine gives you, the reader, a tour through the exciting world of entertainment. In addition to the many feature stories, celebrity interviews, and over 30 categorized sections (ranging from movies, television, theme parks, clubs, sports, health and fitness to theatre, dining, fashion, travel destinations, casino's and gaming), Hot Spots® offers thousands of entertainment listings that will help you discover America's entertainment, activity, cultural and travel "Hot Spots®."
---
The Hot Spots®ClubCard will be honored at thousands of entertainment establishments nationwide. This special club will give your establishment nationwide exposure, new customers and offer our subscribers the opportunity to visit and enjoy countless new entertainment venues nationwide. Hot Spots Magazine ®, hotspotsmag.com & the Hot Spots®ClubCard offers the largest array of entertainment categories on the market today!
---
* Members are obligated to honor the discounts described below to any and all persons holding a valid Hot Spots®ClubCard for a period of one year from the activation date listed below.
---
* Only subscribers to Hot Spots Magazine ® are eligible for the Hot Spots® ClubCard & FREE membership in the Hot Spots®ClubCard program. *A listing of participating establishment members is available On-Line at hotspotsmag.com .
---
Hot Spots recommends offering at least a 10% discount when presented with the Hot Spots®ClubCard . In addition to any other offer made by the participating establishment. Special access privileges are also recommended.
---
* There is no charge for participation in the Hot Spots®ClubCard program. Hot Spots® will charge a $25 Processing Fee for your initial listing Information (See Listing Form). If you require listings in additional categories please add $10 for each multiple listing. Only one listing is allowed per category. (Please complete and submit the Listing Order Form.)
---
---
---
---
---